This private residence along the Charleston Harbor in Mt. Pleasant, South Carolina sits along the Marsh of the Cooper River. The home is situated in between a Pecan tree to the front of the property and a massive Water Oak to the rear. The farmhouse style design is in keeping with the Low Country Vernacular homes you will find in this area.
"We worked with Damien for over one year designing our home and we couldn't be more pleased. He listened to our wishes and he came through by designing the perfect house for us. When the community Design Review Board changed the exterior design requirements mid project, Damien was flexible with major exterior changes all the while keeping the basic floor plan that we loved. He was easy to work with, made great suggestions and kept to the budget. I would highly recommend Damien Busillo for any custom home design."
Homeowners Hal and Christine Owen
This elevated, park under home is located along the Marshes of Beresford Creek here in the Lowcountry of South Carolina. Special consideration and design standards are extremely important when your property is located in the flood plain. I will ensure the design of your home meets and exceeds the Local and National Code requirements.
"Damien Busillo has been a pleasure to work with. Although my husband and I have built four homes in the past this was our first experience with having a custom home design. He has been a great help in finding ways to convey exactly the design we wanted, working with builders in the bidding process, working to help us find the landscape designer that fits our tastes and working wit h our neighborhood ARB to help us get our design approved.
Damien has been very flexible to make changes in order to fit our needs and I know that the end product will be a home that we will be so proud to call our own. It's been a pleasure to work with him!"
Homeowners Emily and Jamie Thomas
This Contemporary Design is pretty unique when it comes to Charleston Architecture. I was fortunate to have a client that was thinking outside the box and allowed me the design freedom to incorporate her very contemporary and modern tastes into a home unlike any other I have designed. I had so much fun creating the construction documents, especially the design of the Great Room Clerestory wall and the Light fixture layout as you enter the home.
Nestled along the beautiful marshes of Coastal South Carolina, this private residence was designed with low maintenance in mind. During the design process we will discuss ways in which we can achieve this. A sustainable home is one that only uses enough materials and energy so it will not impact further generations.
"We could not be happier with the end product. We contacted Damien with a hodgepodge of design ideas and he was able to put it all together into a house that has met our needs aesthetically and functionally. I frequently referred to Damien as the "marriage counselor" of architecture as he was able to creatively meet the diverse requests of my husband and myself. We love our new house designed by DLB design! "
Homeowners Reyne and John Miller
Designed for a family of five, this residence sits adjacent to a public dock and takes full advantage of the panoramic river views. The Stair Tower adjacent to the front door includes a curved staircase that creates a magnificent clerestory space upon entry into the home.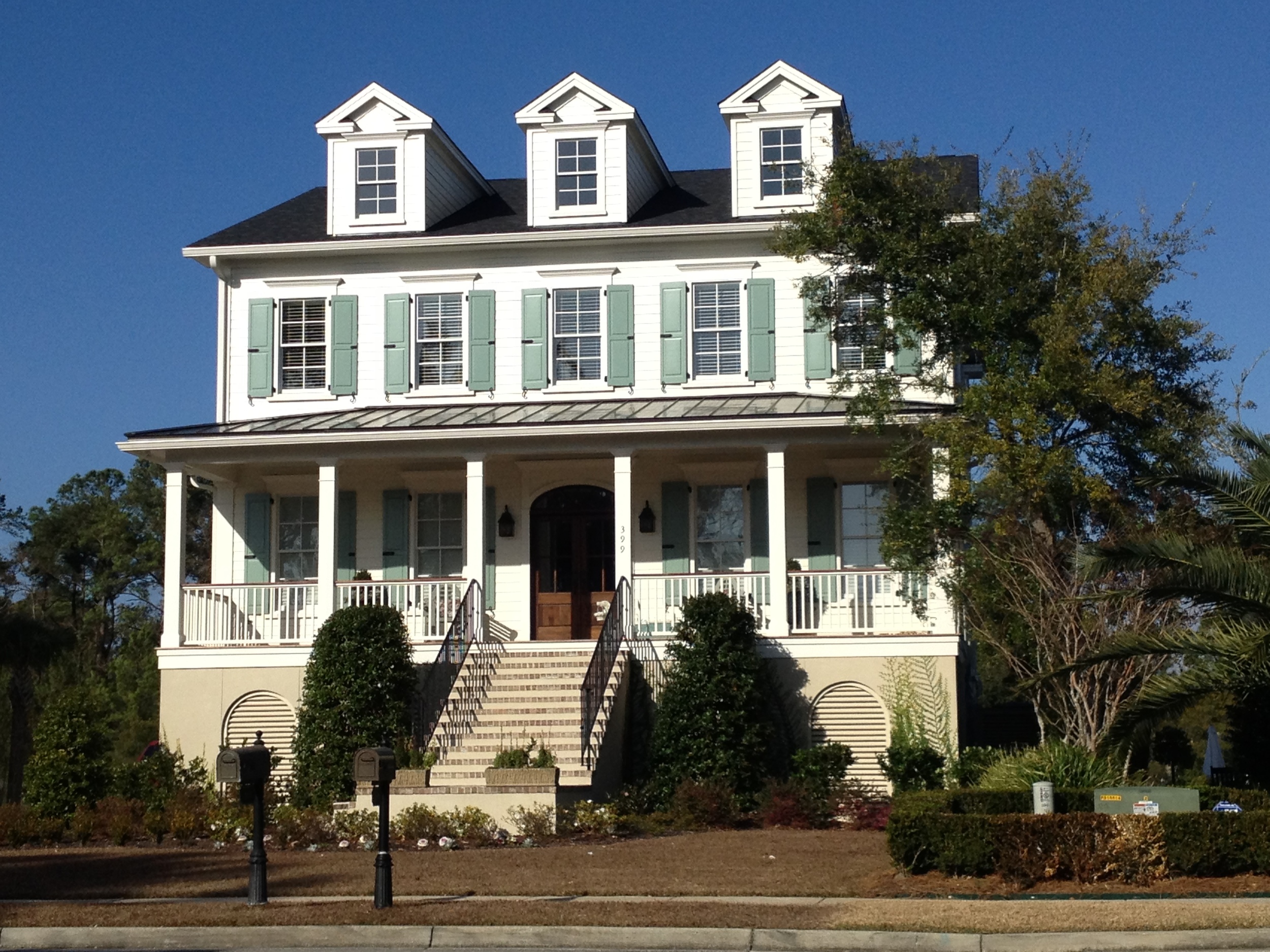 I have had the pleasure of working with clients that have a wide range of architectural taste and style. I pride myself on being able to design each home to their liking. I am always willing to explore your design ideas and provide a sensible solution that will fit the site, neighborhood review board, and most importantly, you.
"Damien did a superb job working with my wife and I developing this project. He is a great listener and developed options to allow us to select the final design to build our porches and extend our main stair case to gain access to the third floor to build out a TV room, office and exercise room with a lot of useable storage. His ideas made the project look like these spaces were always a part of the origninal house design.

Damien's plans were thorough and enabled the project without costly change orders. Damien was always available to provide guidance to the project team during the project.

This project has dramatically changed our home and made it a true pleasure for our entire extended family."
William Lewis, Chief Operating Officer of Capital Programs for Charleston County School District
During the Preliminary and Design Development phase of your project, I will be providing you with Floor Plan and Elevation renderings. I will locate your home on the property via Google Earth technology and begin to study sun and shadow patterns as they effect the structure.